Comparative Immersion: Virtual Reality vs. Level-D Simulator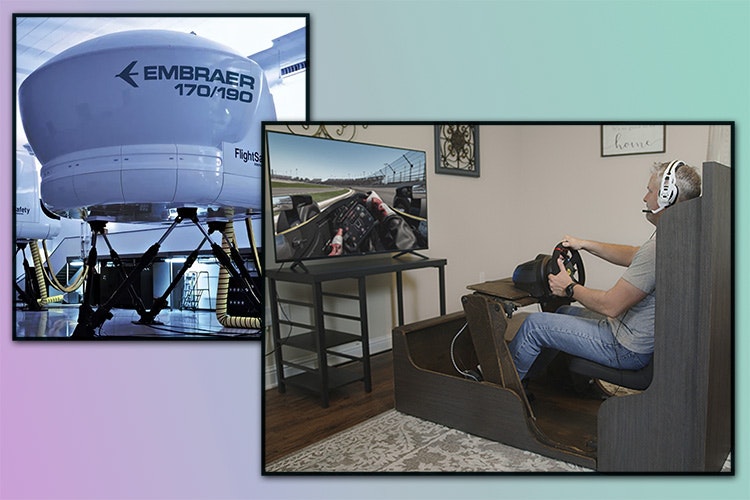 As a US Army Blackhawk pilot, EMS pilot, and now as an airline transport pilot (ATP) flying the Embraer 170/190 series aircraft, I've spent a LOT of time in several top-of-the-line, full-motion, Level D simulators.
Level-D Simulator Drawbacks
I can say this: they are really cool until you get into the real thing, where you can feel how the plane really feels (motions and sensations) in the air. However, it's a real drag having to go back every year for recurrent training.
The tactile capabilities of all of the switches (or "switch-ology", as we call it) in the Level D training is very valuable; the motion and visuals, not so much. Visuals consist of a series of projectors and screens that wrap roughly 180 degrees just outside the simulator windows, proving a mediocre (at best) 2-D visual experience.
The surprising immersion of VR
VR headsets, on the other hand, offer an astoundingly accurate visual experience. Full 3-D, depth perception, and motion parallax are all elements absolutely necessary for a believable visual simulation. This is most notable for me in Frontier's Elite: Dangerous space sim. I was stunned by the 1:1 visual accuracy of the Oculus Rift the first time I put it on and played this beautiful game. Project Cars is one of my favorite VR racing titles for the same reason.
In summary, the 'switch-ology' of the Level D simulators are super important, but I'd rather have the visual reality provided by the VR headset. 
Where does BoxCave fit in?
So what does any of this have to do with The BoxCave? Well, our mission is to help facilitate and integrate this simulation experience into the home. Our end goal is to provide a platform for these emerging technologies that elegantly and seamlessly blends with the surrounding décor, while protecting and hiding the technology inside. Whether it's VR, Console + TV, or PC + Monitors, the BoxCave will provide the mounting surfaces for those tactile controls necessary to provide that extra level of immersion, right in front of the living room sofa.
Are you ready to Climb In?